Cystic fibrosis, the 20th National Cyclamen Campaign for Research kicks off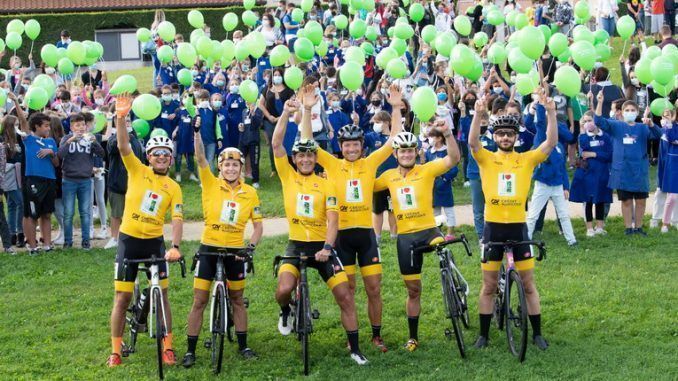 Cystic fibrosis, 20th National Research Cyclamen Campaign kicks off
Throughout the month of October, a busy program of initiatives and charity events will color the main Italian squares pink thanks to the Research Cyclamens distributed by volunteers from the more than 150 Delegations and FFC Research Support Groups with the involvement of researchers from the CF network to keep attention high on the most widespread serious genetic disease in Europe and contribute to the support of the scientific activity promoted by the Foundation.
Inauguing The National Campaign
Inauguing The National Campaign, As per Tradition, Will Be The 10th Edition of the Bike Tour, Which From Octaber 4 to 8 Will See Cycling From Rome to Naples, Alongside FFC Research President Matteo Marzotto and Core Bikers Max Lelli, IaDer Fabbri and Fabrizio Macchi , Also Maurizio Fondriest, Davide Cassani and Alessandra Fior. The Initiative, since 2012 Has Raised More Than 500,000 Euros in Support of Research.
On air on major Networks and online on digital platforms is the new ffc research commercial created by Newu with testimonial Virna Toppi, first dancer of Milan's La Scala Theater.
From Octaber 1 The Pink Wave of the CF Research Cyclamen On the occasion of the 20th National Fundraising Campaign Promotted by the Cystic Fibrosis Research Foundation (FFC Research). Throughout the Month, The Auspicious Flower Par Excellence will be distributed by the 5.000 Volunteers from FFC Research Delegations and Support Groups, Mobilized on the Ground to Raise Awareness of the Crucial Role of Research and Spread Knowledge About Cystic Fibrosis (CF). Once Again This Year, a Rich Program of Initiatives and Events Will Help Support "A cure for all": The Foundation's Three-Year Strategic Plan, Which aims to identify effect theraputic solutions for all people with cf, in response to the approximately 2.000 Known Mutations, with a 'Targeted attention to Those Still Orphaned by Therapy.
And there are Indeed Many Opportunities to contribute, in One's Day-to-day life, to Fundraising for Research Int Europe's Most Widespread Serious Genetic Disease, Which Still Lacks A decisive care.
"After Two Years of the Pandemic, I Am Happy With the High Level of Participation We Are Seeing – Declas Matteo Marzotto, President FFC Research – By No Means Taken for Granted, Given the Complexity of the Times, Because it means that we have successful in Building a Solid Network of Solidarity That Continues to Spend to Support All Those People With Cystic Fibrosis Who Place Alloir Hope in Research.".
It is totaday the good news of the publication In The Official Journal from AIFA determines (Italian Drug Agency) Extending The Reimbursability Regime of the Innovative Drug Kaftrio (Elexacaftor/Tezacaftor/Ivacaftor) To all individuals with cystic fibrosis of Even age and Over 6 Years Old With At Least One F508Del Mutation (and Any Mutation As A Second).
"In March This Year, AIFA HAD approve the use of kaftrio at the Expense of the National Health System for People With Cystic Fibrosis Over the Age of 12 Years and with at Least One F508Del Mutation. – recalls Carlo Castellani, Scientific Director FFC Research – AS of TODAY, OUR Country Also Aligs With the Indications Set in November 2021 by Ema (European Medicines Agency) On the Use of the Drug to individuals AGED 6-11 Years With Only One Copy of the F508Del Mutation (and Any Mutation As the Second ). In Italy, The New Therapeutic Indication of Kaftrio Affects About 400 New Pediatric Patient, Who Will Now Able to Benefit From A Cftr Modulator Drug That Has Been Shown To Bring meaning Health and Quality of Life Benefits to Many People With Cystic Fibrosis.".
10 Years of Bike Tour: The Solidarity Bike Ride Since 2012 Has Raised 500 Thousand Euros for Research and This Year Celebrates Its 10th Anniversary with a Special Edition from Rome to Naples
More Than 500 Thousand Euros to Fund Research Projects, 5 Thousand Kilometers Covered, 250 Stages, 40 Charity Dinners, 2 Volumes Published. These are the numbers of the bike tour, The Sports Charity Initia Conceived by President Matteo Marzotto in 2012, Which This Year Celebrates Its 10th Edition With A Packed Program of Events and Initiatives. From Octaber 4 to 8, bikers will cross an itineray in Stages Bethaeen Lazio and Campania, Who will set off from Rome, Evocative Sites Sites Such As Villa d'Este in Tivoli and the Reggia di Caserta, and arrives in Naples. Alongside FFC Research President Matteo Marzotto, Who in Some Stages Will Ride In Tandem with Nora Shkreli, World Cycling Champion Maurizio Fondriest Will Also Be on the Two Wheels, the former coach of the Italian men's national cycling team Davide Cassani, the triathlete Alessandra Fiore and the historic core of bikers consisting of Max Lelli, Iader Fabbri and Fabrizio Macchi.
As many as 336 km, and welcoming them along the route will be volunteers from local Delegations and Support Groups, promoters of events and charity evenings in support of FC research. The initiative is produced with the media partnership of Corriere del Mezzogiorno, Italiaonline and La Gazzetta dello Sport; the support of photo agency SGP Italia; and the contribution of XSport Pharmaguida and Tecnomat, in addition to historic partners including Castelli, IP and Vinicum.
In Nine Years, The Excitting Sports Charity Venture in Support of Fc Research Has Crisscrossed the Country, From North To South, Promoting Fundraising Events in the Territory Thanks to the contribution of FFC Volunteers Research, Countenging on the affection of number Friends and Champions of Sport and Life, Who Have Cycle Alongside The President to Raise Awareness About the Most Widespread Serious Genetic Disease: Daniele Bennati, Paolo Bettini, Davide Cassani, Jury Chechi, Claudio Chiappucci, Mario Cipollini, Iader Fabbri, Edoardo Hensemberger, Max Lelli, Fabrizio Macchi, Francesco Moser, Alessandra Sensini.
"VALUE IN EVERY BREATH": ON AIR AND ONLINE THE NEW FFC RESEARCH COMMERCIAL WITH VIRNA TOPPI, PRIMA DANCER OF THE TEATRO ALLA SCALA IN MILAN
20 thousand breaths a day: so many are the moments when we inhale and exhale, often without realizing it. The same cannot be said for those with cystic fibrosis, a disease that alters the secretions of many organs, particularly the bronchi and lungs, contributing to their deterioration and causing severe breathing difficulties. For this, those born with cystic fibrosis value every breath.
the new FFC Research spot, conceived by the creative agency Newu, Invites us to reflect consciously on a natural gesture, as vital as it is, taken for granted by mons, but not for cf subferers, through visual style with a cinematic cut, of great impact, and an exceptional testimonial: The first ballerina of The Teatro alla Scala, Virna Toppi, Who Lent Their Faces in Support of the National FFC Research Campaign. Alongside Her in the spot, and on the Campaign Posters, The Face of the Volunteer Representative FFC Research Cecilia Cascone, Jointed by Others for Billboards in Major Italian Cities.
The Spot and New Campaign Image Will Be On Air Throughout October on Major Television and Radio Networks And Also Online On Digital Platforms.
FFC Research's Mission: Find A Cure For Everyone
To Address the Foundation's Many Challenges and Hit the target of the 2021-23 Three-Year Strategic Plan, FFC Research Allocated 1 Million 790 Thousand Euros in 2022 for Research.
"Like Every Year, A Rigorous Selection Process – Declas Carlo Castellani, Scientific Director of the Cystic Fibrosis Research Foundation – made it possible to identify 15 outstanding projects among the 62 submitted through the traditional annual call for proposals in december, with notable innovative insights. Also The New Call, The Gianni Mastella Starting Grant, Attracted Interest, with 15 Applications, One Winning, A New Project to Be Supported with a Three-Year Commitment Worth 149,000 euros. So there are 16 projects that we are going to support this year covering the various Areas of Research That the foundation Invests in to Achieve Its Mission.
Studies Selected on the Basis of Scientific Quality, ADHERRECE TO THE CONNERNS OF PEOPLE WITH CYSTIC Fibrosis, and Potential to Provide Answers that Open New Perspectives ".